Quick Tool Links: Coin Flip Simu, Dice Roll Simu, Tarot Flip Simu, Number Flip Simu
More: Coin Flipper, Intuition Test, Luck Test
1. What is Luck Flip Simu?
This luck tester is creatively created by FlipSimu(FS) to let you easily test your luck anytime anywhere in your daily life. Throughout the good luck testing, you are able to see how lucky you are on spot with just a maximum of 5 trials of coin flipping. The more you can get the same flips, the higher your luck score will be.
2. How to Carry Out a Good Luck Testing?
Luck Flip Simu Games consist of a maximum of 5 trials. The test will instantly come to an end when you flip a different side of the coin. If you flip the coin on the same side for all five trials, you have reached the pinnacle of luck.
Firstly, there is a luck test result display section at the top of the test area.

Initial State
Now, you can just click or long-press and release the flip button to simulate the flipping energy. The probability of heads or tails is also 50:50 as if you toss a coin hard or softly in the real world.

Additionally, there are two small sections under the result section. The bottom-left section is a section that mentions the number of repeated flips. Besides, the bottom-right section is the section displaying the number of trials have been done.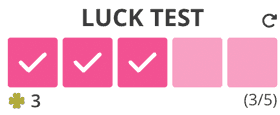 E.g. "3" means you gain 3 same flips continuously

E.g. "3" means you have flipped 3 out of 5 times
The final luck score will be displayed when there is one different side of the coin being flipped.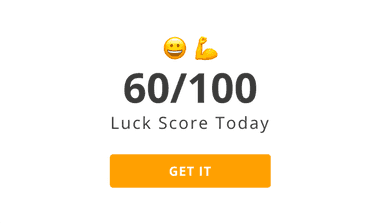 You can also change your coin colors, sound and background at the customization section.
3. When Do You Need to Do a Luck Test?
These are the examples of scenarios that you probably can use the Luck Flip Simu Game.
To gauge your luck today.
Prove that you are not unlucky.
Challenge the lucky score with your family and friends.
4. Other Application
Other than this good luck testing, you also can try to test your intuition with Intuition Flip Simu game. If you wish to have other applications other than test games, you may have a try with Coin Flip Simu, Dice Roll Simu, and Yes or No Tarot Flip Simu.
5. Share Luck Flip Simu Game
If you would like to share the joy of using the Luck Flip Simu with your friends and family, you could do it easily by clicking the share button (beside the logo).
Let's Check Your Good Luck Now with Luck Flip Simu!